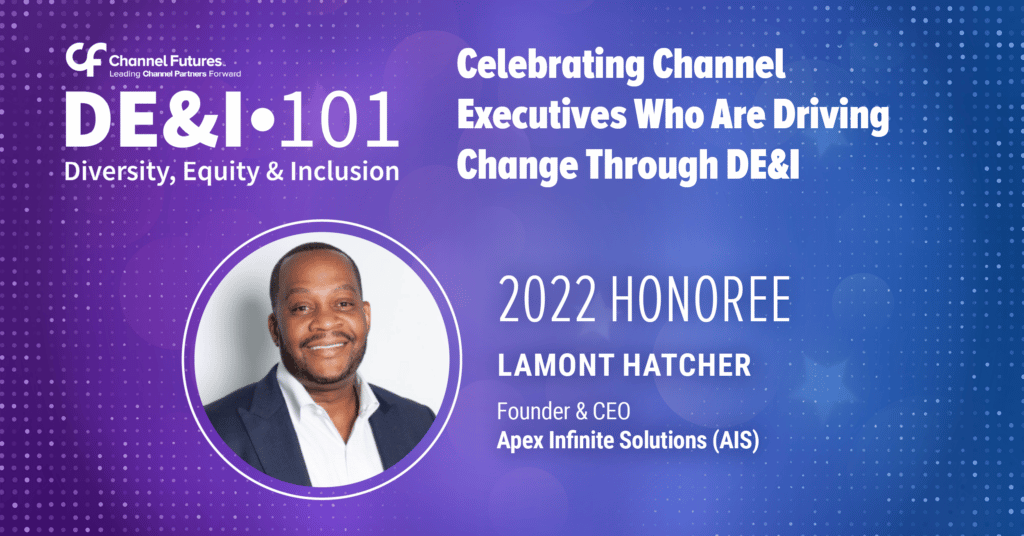 Lamont Hatcher Recognized by Channel Futures DE&I List for Promoting Diversity, Equity & Inclusion in Technology Channels
Launched in 2021, the Channel Futures DE&I 101 recognizes individuals from diverse and multicultural backgrounds who are driving diversity, equity, and inclusion in the information and communications technology channel through their words, actions, and leadership.
While organizations in the channel are often acknowledged for DE&I programs they've launched, it's the people at the grassroots level who get things started and keep the momentum going. The DE&I 101 turns a spotlight on those people. People who are impacting the industry. The Channel Futures DE&I 101 is a list, not a ranking. Individuals can self-nominate or be nominated by others. All submitted names were carefully reviewed by a panel of Channel Futures team members.
This year's 101 honorees come from throughout the information and communication technology channel. Representing multicultural backgrounds, they all work to promote diversity, equity, and inclusion in the channel.
About AIS
AIS is a proactive IT consulting, infrastructure and cybersecurity company specializing in strategic solutions that help organizations leverage technology to drive positive outcomes. Based in Indianapolis, AIS was founded in 2012, and works with public and private organizations across the Midwest. Through our service delivery platforms, and our talented professionals, we provide personalized, best-in-class digital solutions to organizations, users, and customers.
About Channel Futures
Channel Futures is a media and events platform serving companies in the IT channel industry with insights, industry analysis, peer engagement, business information and in-person events. Our properties include Channel Futures MSP 501, recognizing the most influential and fastest-growing providers of managed services in the technology industry, Channel Futures DEI 101, honoring and celebrating those who have often been under-represented in tech channels; Channel Partners Events, delivering unparalleled in-person events, including Channel Partners Conference & Expo, The MSP Summit, and Channel Evolution Europe; and DEI Community Group, our initiatives to educate, support, promote, and sustain diversity, equity, and inclusion (DEI) in the IT channel industry. Channel Futures is part of Informa Tech, a market-leading B2B information provider with depth and specialization in the Information and Communications (ICT) Technology sector. Every year, we welcome 7,400+ subscribers to our research, more than 3.8 million unique visitors a month to our digital communities, 18,200+ students to our training programs and 225,000 delegates to our events. Channel Futures is where the world meets the channel; We are leading Channel Partners forward. More information is available at channelfutures.com.