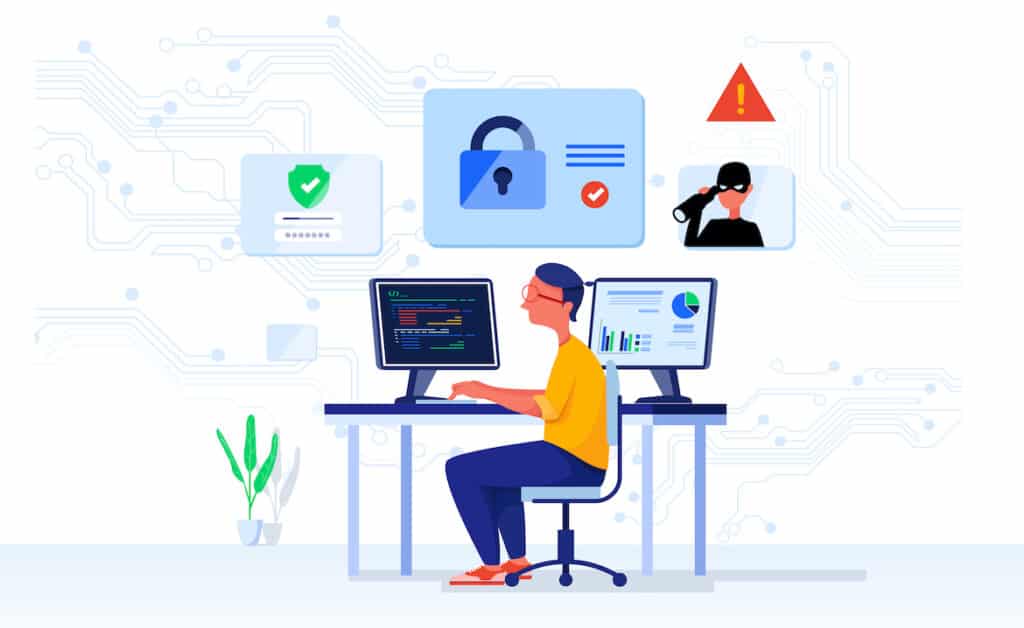 Modern businesses need to have a strong password policy in place to prevent compromised accounts and potential data breaches. Password policies exist to ensure that all employees within a company use strong login credentials and change them periodically. Without rules in place, companies are putting their data at risk for theft or exploitation.
Let's take a look at how a password policy can benefit your business and the best practices to implement when designing your policy.
How Password Policies Can Enhance Security
It may go without saying, but there are several ways password policies for your employees can enhance your business's security. Some of the main benefits of strong policies include:
Preventing Unauthorized Account Access—Prevent unauthorized access to your company's accounts by ensuring that only select users are granted into certain accounts or files.
Reducing Data Loss—The majority of data loss today is caused by weak password authentication. Your policies can ensure proper password strength and prevent the leakage of sensitive information.
Mitigating Internal Theft or Fraud—When a business has a strong policy in place along with regular user training, the odds of fraudulent activity within your business goes down significantly.
What Can Happen If You Don't Have Password Policies?
Unfortunately, several businesses lack comprehensive password best practices and are left vulnerable to consequences such as:
Data breaches: Unauthorized account and device access leads to data breaches.
Loss of revenue: Breaches are costly and can cause major financial strain on your business.
Stolen financial information: Hackers use weak passwords to steal financial information of both you and your customers.
Damaged reputation: When customer data gets leaked, you're likely to get a bad rap.
Non-compliance issues: Data leaks can end in non-compliance fees and even lawsuits if you lack compliant policies and protections.
Internal data theft: Disgruntled employees can easily steal or compromise data if passwords aren't properly protected.
Whether external or internal, unauthorized access can cause irreparable damage within your business. Preparing a policy that prevents these consequences is the best way to protect your business.
What to Include in Your Password Policies
When designing a password policy for your company, it's important to create specific guidelines that are tailored to your business.
That said, there are several well-known best practices that can serve as a standard for password requirements. One of the most well known is AWS's Identity and Access Management (IAM) service.
AWS Password Policy Best Practices
Ensure your policy requires passwords with a minimum length of 14 characters.
Ensure your policy prevents password reuse.
Customize your policy instead of using default settings. This may include requiring at least one uppercase letter, number, and/or non-alphanumeric character.
Use a password manager with random password generation.
Set multi-factor authentication.
Grant least privileges according to roles (begin each user with no access level and add resources as required).
Delete unused users.
For larger environments, use a federated identity system or isolate all users in one account to centralize management of user accounts and password policies.
Monitor policy status and make updates.
Password Managers
There are several password manager services that can help you achieve greater security. Password managers work by storing all of your passwords securely in a digital vault and requiring multi-factor authentication to login to that vault. While logged in, authorized users will see login credentials auto-populate on sites for which they have access.
Some top-rated password managers are:
Mobile Device Management (MDM)
While MDM can come with its own set of policies, you should make sure your Mobile Device Management best practices align with your password policy. Here are some factors you'll want to consider when it comes to incorporating MDM into your password policy:
How many devices are being used by your staff? Are they all password-protected?
Are any devices not being used? If so, what is the process for getting rid of those devices?
Where are employees allowed to work when not in the office?
What are the requirements for employees to access company data on mobile devices?
Are you using a password-protected VPN or cloud services for remote access of your company data on mobile devices?
What activities are restricted on employee mobile devices?
What is the process or plan when a company device is lost or stolen?
How to Get Started with a Company Password Policy
AIS has a team of experienced IT professionals who are ready to help you develop a comprehensive company password policy. To learn more about how we can help, contact us today for a free consultation.