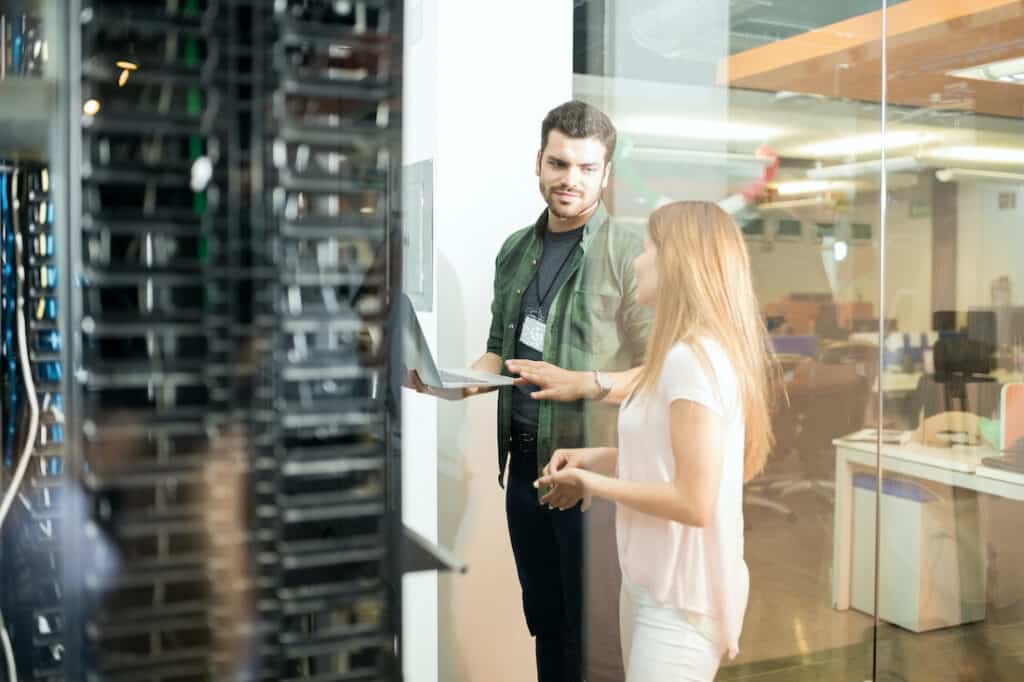 When your business needs help with your technology, full managed IT services and staff augmentation are two options for outsourced IT support.
These two service models both provide different benefits and advantages, and depending on the extent of support you need, one may be the right fit for your organization over the other.
Take a look at what each entails to understand how to choose the best model of IT support for your business's needs.
What Is Staff Augmentation?
Staff augmentation is when your staff is supplemented by outsourced IT employees to help with a specific task. Think of it a little like hiring specialized temp workers; if you have a project or task that you need more technical support for, you can use staff augmentation to get the manpower to complete the job effectively.
You get the benefit of temporary employees without having to go through the hiring process for a job with a predetermined end date.
What Are Managed IT Services?
Managed services, on the other hand, have a much broader scope. Managed IT services generally entail a monthly agreement with your IT provider, and you receive a much greater variety of support in return.
Your managed service provider (MSP) can provide your helpdesk support, device and system monitoring and maintenance, network monitoring, cybersecurity solutions, cloud solutions, hardware procurement, consulting around new products or services, and more depending on your package and agreement. Full managed IT services generally include everything your company needs for its technology to function smoothly, replacing the need for an internal IT team.
Pros & Cons of Staff Augmentation
As you can tell, different companies will choose managed services or staff augmentation based on their different needs and scope.
Some of the advantages of staff augmentation include:
Additional Support for Specific Tasks: When you know what you need done but don't have the resources or expertise on staff to do it, staff augmentation meets your need for additional, quality support.
Lower Cost: Because staff augmentation is a temporary, not ongoing, agreement and is limited in the scope of support it provides, it will generally cost less than a managed service agreement.
Project-Based: When you know you'll only need extra support for a short period of time, staff augmentation saves you the trouble of having to hire while still providing skilled workers who know how to get the job done.
Some of the drawbacks are:
Limited Support: Staff augmentation can have very narrow scope, which means the resource assigned for your specific task or project may not be able to assist with other types of IT projects or needs.
Doesn't Aid IT Strategy: Staff augmentation isn't designed to improve your current processes or project; it merely completes the plan you already have laid out. But, if you already have an in-house team who knows what they're doing, this may or may not be consequential.
In general, staff augmentation is better for businesses that have specific project needs with limited internal resources, that only need short-term support, that have limited budgets, and that already have an IT department or consultant creating the strategy and heading up the project.
Within that scope, staff augmentation can be extremely useful in providing a simple and cost-effective means to complete projects more efficiently.
Pros & Cons of Full Managed IT Services
Managed IT services have their pros and cons as well. Some of the advantages include:
Round-the-Clock Support: Your MSP will generally provide not only round-the-clock support, but also automated system monitoring so they can catch and resolve issues proactively.
Expert IT Management in Every Area: Part of the responsibility of a Managed Service Provider is to fully manage your IT systems so you don't have to worry about it at all. That includes expert management in cybersecurity, infrastructure, and much, much more.
An Invested Partner: MSPs have a direct investment in making sure your IT functions smoothly; the more proactively they optimize it, the less time they have to spend fixing it. Your MSP is incentivized to act in your best interest.
Maintaining Compliance: MSPs typically have experience with a multitude of compliance standards (e.g., SOC, NIST, FINRA, HIPAA, CMMC), and understand how their services map to the standards and controls.
A potential negative may be:
Higher Cost: Full managed IT services understandably cost more than temporary staff augmentation. If your business doesn't actually need that much support, it may not be worth the price. However, if you do need full support and your alternatives are between hiring an MSP or an internal IT department, you'll find managed services to be quite a cost saver!
Managed IT services serve a different role than staff augmentation does. Instead of providing only temporary support, it can effectively replace your need for a robust internal IT department. It's not possible to give a complete list of all the services an MSP can provide here, but you can find out more here!
It is, however, important to note that there are different levels of managed IT support; if you don't need the full package of managed IT services, you can also get a co-managed or a foundational services package suited to your needs.
How Staff Augmentation Helps Businesses
Businesses taking on a project such as cloud migration, setup of all-new IT infrastructure in a new location, facing a rapid influx of support requests after a new product launch, or other short-term tasks can benefit from staff augmentation as a cost-effective way to complete projects without having to vet and hire qualified employees.
That leads to business advantages in cost savings, efficiency, and quality of work.
Choosing Your IT Support Model
In summary:
Do you need short-term manpower for specific roles in a defined project? Go with staff augmentation.
Are you looking for robust IT support, a partner to oversee your IT and strategize for business success through technology? Look into managed IT services.
Companies' needs vary widely when it comes to IT services, but AIS is happy to help you evaluate your options and choose the level of support that will best meet your needs.
AIS is an experienced Indiana Managed Service Provider providing a variety of full managed IT services, co-managed services, and project-based support. Get in touch today to learn more about how we can help you!