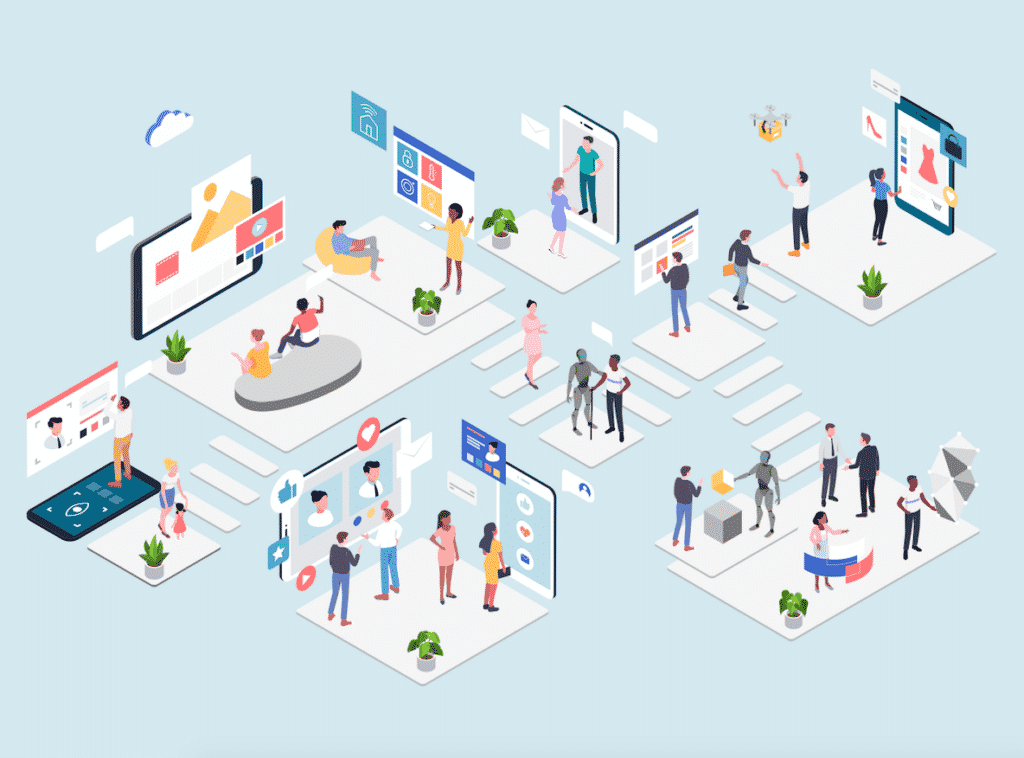 The Greek philosopher Heraclitus once said, "Change is the only constant in life." That's certainly held true in the business world; technology has been evolving the workplace for decades, and there hasn't been a bigger change in recent years than the push to remote work spurred by COVID-19.
Major factors in driving business change are new technologies that become available, the way we communicate, and customers' expectations. In a world that's constantly speeding up and delivering nearly instant gratification, businesses must adapt to remain competitive.
The idea of the "modern workplace" accepts these realities and focuses on enabling employees to work in a digital environment and empowering businesses to use technology to better serve their customers.
What Is the Modern Workplace?
The modern workplace values:
Digital integration – If you have a workflow problem, there's likely a piece of technology that can solve it. The modern workplace digitizes processes, information, and systems for greater efficiency, ease of access, and capabilities.
Speed and efficiency – With digitization slicing margins, speed and efficiency are key to remain competitive. Technology remains a driving force behind the ability to improve efficiency.
Automation – Automation plays a role in both digitization and speed increases. Processes necessary for onboarding or offboarding, accounting, HR processes, and many other areas are becoming more automated through software.
Employee wellbeing – COVID-19 has proven that remote work is possible; now many employees are demanding it remain an option. In the current work environment where employees are more empowered than ever, their wellbeing and work-life balance are at the heart of any business and become a crucial factor in an organization's success. 
Security and protection – With greater digital capabilities also come greater risks and threats to your business. Modern businesses must prioritize digital security in order to use technology to its full potential while maintaining a low-risk environment.
Customer education and communication – Customers are smarter and more educated than ever before. Getting thorough information to your customers to help them make informed buying decisions, and responding rapidly to their questions and concerns, is a differentiating factor for modern businesses.
Modern Workplace Solutions
To adopt these practices and values, modern businesses employ a number of digital tools and processes.
Digital tools include programs such as automation software, internal communication platforms, telephony services, advanced remote security defenses, cloud hosting, etc. Microsoft Modern Workplace encompasses many of these tools (more on this below!).
Modern workplace policies place emphasis on work-life balance, allowing flexibility for employees in ways such as allowing and accommodating for remote work, and being honest, transparent, and communicative with customers.
Microsoft Modern Workplace
The aptly named Microsoft Modern Workplace provides many of the digital tools necessary for a modern business to function. It's basically a new iteration of Microsoft 365 that includes all the original features, plus new tools for remote work security.
MS Modern Workplace features include:
Microsoft Teams, which provides internal chat and collaboration channels, file sharing, video calling, and guest access
Microsoft Office 365, Microsoft's cloud-based business IT service that functions as your email and file server, video conferencing platform, and file sharing source, all managed by Microsoft
Microsoft Business Voice, a full telephony solution that can completely replace business phone systems with one flexible solution
Enterprise Mobility + Security, an intelligent mobility management and security platform that secures devices in any location
SharePoint, team document storage with customizable security options
Azure, a cloud computing service for managing and deploying applications from Microsoft data centers
Microsoft Endpoint Manager, which combines several tools to provide full cloud and on-prem endpoint security, including the ability to manage and pre-confiure devices
Together, these tools can enable organizations to work collaboratively, efficiently, remotely, and securely—benchmarks of embracing the modern workplace.
Automation
Many of the most successful modern businesses have found ways to use automation in their everyday processes. Automation not only speeds up workflows and delivers greater efficiency, but it can also improve accuracy as it removes or greatly reduces the possibility of human error.
Automation doesn't necessarily equate to robots on an assembly line like you might picture; in fact, the more common form of automation today is businesses using specialized software to keep workflows moving.
For example, your accounting department might use a program like QuickBooks to automate bookkeeping and invoicing tasks to reduce time spent on repetitive tasks and improve accuracy at the same time. Your sales team might use an automation tool like Zapier to notify them of new leads, or your admin team could use the same software to send out automated emails internally.
Adding this type of automation to your business is a trusted method for improving efficiency throughout departments.
Increased Employee Productivity
The outcome of these tools, processes, and the overall mindset of the modern workplace is an increase in productivity, competitiveness, and success.
Employees can be more productive when they're empowered with the right digital tools and the capabilities to get more done, faster, while being motivated with better work-life balance and the ability to work from wherever they want.
Modernize Your Business
Ready to digitize your organization and implement the tools of a modern workplace? Contact AIS today to learn how we can set you up with the right technology tools.