Cybersecurity attacks have become a major issue affecting companies everywhere. While there are various attacks cyber criminals use to gain access to sensitive data, phishing has proven to be one of the most common. These attacks become increasingly problematic as they become more sophisticated and harder to detect.
Midway through 2021, there was a spike in the amount of phishing sites created, adding up to over 400,000 different websites. With this influx of phishing websites, it's never been more important to ensure that you and your company are protected from any potential threats. Learning to recognize different threat types is crucial for network security.
Over 80% of businesses reported that they'd undergone a phishing attack within the last year alone. If you have become a victim of a phishing attack, it's important not to panic. We'll go over steps on how to respond if you've fallen susceptible to an attack.
Why Does Phishing Happen?
Phishing is a technique used by cybercriminals to gain access to personal information such as passwords, usernames, and other confidential information. It's one of the most common attacks used as it can be very successful in obtaining valuable data. Cybercriminals use phishing emails as a way to lure victims into clicking on malicious links or opening attachments that contain malware.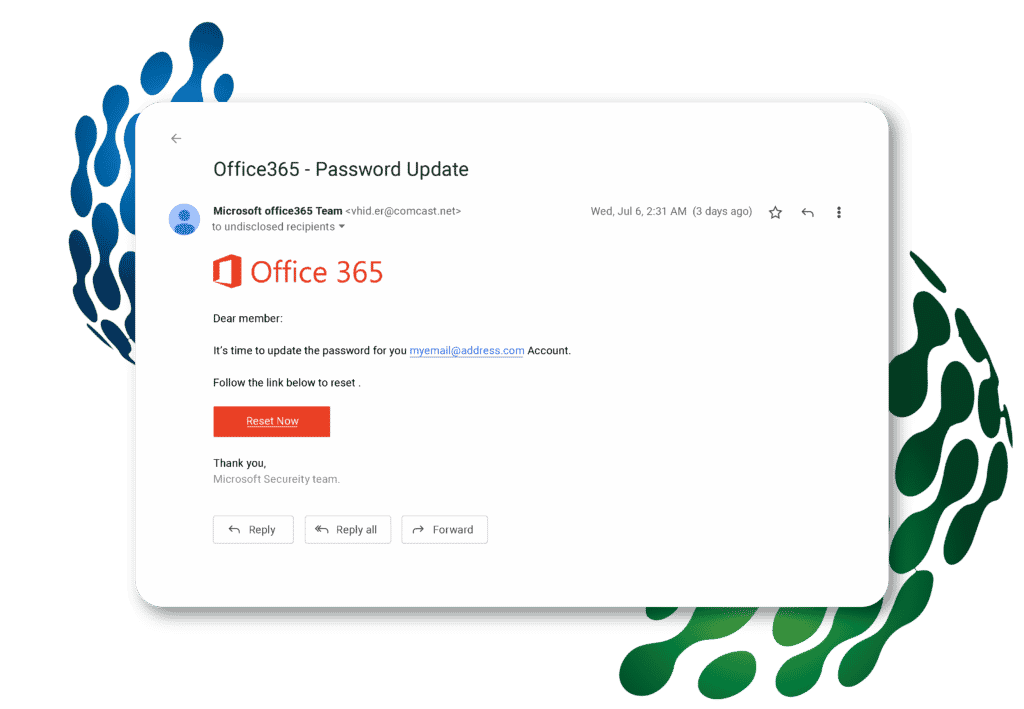 There are various reasons why cyber criminals conduct phishing attacks. The most common motive is to steal sensitive information that can be used for financial gain. This may include credit card numbers, bank account login details, and other personal information that can be sold on the dark web. In other cases, phishing attacks are conducted to gain access to sensitive company information.
Cybercriminals are constantly finding new ways to trick victims into clicking on malicious links or opening attachments. It's important to be vigilant when online and to never click on links or open attachments from unknown senders.
What Do I Do After Experiencing a Phishing Attack?
If you fall victim to a phishing attack, stay calm and refer to your disaster recovery plan, if you have one set up. If you don't yet have one, the first step is to try and determine where the attack originated from. If you can, try and screenshot the email or website that was used in the attack. This will help in identifying the source of the attack.
Once you have gathered as much information as possible, the next step is to contact your IT department or manager. They'll be able to help you establish the type of attack you experienced and what steps need to be taken to mitigate any damage.
Your IT department will also be able to run a scan of your device to check for any malicious software that may have been installed as a result of the attack. If they find any, they'll be able to remove it and help you secure your device.
It's useful to note that even if you think you haven't clicked on any malicious links or opened any attachments, it's still possible that your device has been compromised. Cybercriminals are constantly finding new ways to trick victims, so be vigilant and always contact your IT department if you think you may have been a victim of a phishing attack.
Increase Your Cybersecurity with AIS Managed Security
Phishing attacks are becoming increasingly sophisticated and harder to detect, making them more difficult to prevent. In order to stay protected from these attacks, your company needs to have a robust cybersecurity solution in place.
AIS is here to support your cybersecurity needs and provide you with the protection you need against phishing and other cyber threats. With our comprehensive security solutions, you can rest assured that your company is safe from any potential attacks. Contact us today to have your system assessed and made ready to defend against cyber threats.